Summer Camps
2023 Summer Camp Information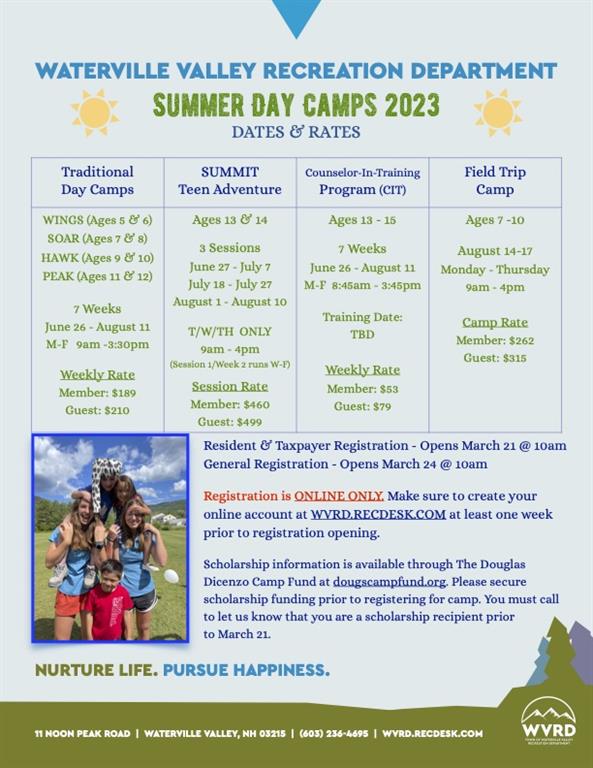 By mail
WVRD Camps
PO Box 500
Waterville Valley, NH 03215
Or dropped off
WVRD
11 Noon Peak Rd.
Waterville Valley, NH 03215
Weekly Rates
$189/Members
$210/Guests
"Waterville Instruction in Nature and Games" A typical day includes a variety of organized games, crafts, cooking, outdoor exploration and play. This program offers a variety of activities ideal for active youngsters ~ A story time rest offered after lunch!
SOAR

Ages 7-8



"Summer Outdoor Adventures in Recreation". The SOAR program includes a variety of outdoor excursions such as swimming, hiking, canoeing, boating, active games, crafts, indoor climbing wall, and more. A vast amount of time is spent outdoors; ideal for kids that enjoy exploring and playing!
HAWK

Ages 9-10



"Heightened Adventures With Kids" has tons to offer this active age group! HAWK will get accustomed to adventuring in and around the valley on foot, in boats, on bikes, etc. They will participate in indoor climbing, group games/activities, tennis, cooking lessons, art and up their game in hiking.
PEAK

Ages 11-12



"Positive Environmental Activities for Kids" is a perfect program for this age. PEAK actively explores a variety of natural environments throughout the valley and surrounding areas. Hiking, biking, discovering new swimming holes, indoor climbing, tennis and kayaking are examples of a day-in-the-life as a PEAK'er.
The final week of camp is field trip-based. Campers will travel to local attractions and beaches for some fun before back-to-school hits!
Weekly rate $262/Member $315/Guest
Options For Teens
SUMMIT

Ages 13-14



"Summer Upon the Mountains Moving Independent Teens" is packed with action and field trip-based. Each SUMMIT session is different and runs Tuesday - Thursday (includes all field trip fees). Note: Session 1 Week 2 will run Wednesday - Friday.
$460/session Members and $499/session Guests
Our Counselor in Training Program is for teens interested in becoming a camp counselor for WVRD. They will be active participants in helping out in a specific camp group.
Weekly Rates $53/Members $79/Guests
Limited to 4 kids/week


*NO cell phones or devices of any kind will be permitted at WVRD traditional camps or field trips.
Camp Registration Information
All camp registration is ONLINE ONLY. Make sure to create an account for your family prior to the opening day of registration.
Please call or email us with questions
Brooke Wakefield, Recreation Director
Sondra Jones (Camps)
Tyler Durham (SUMMIT Camp)