Summer Camps
WVRD Summer Camps 2021
Registration Opens: Date TBA
Brooke Wakefield, Recreation Director
Sondra Jones, Camp Director
WVRD Camp 2021 Procedures and Paperwork
Choose Your Camp!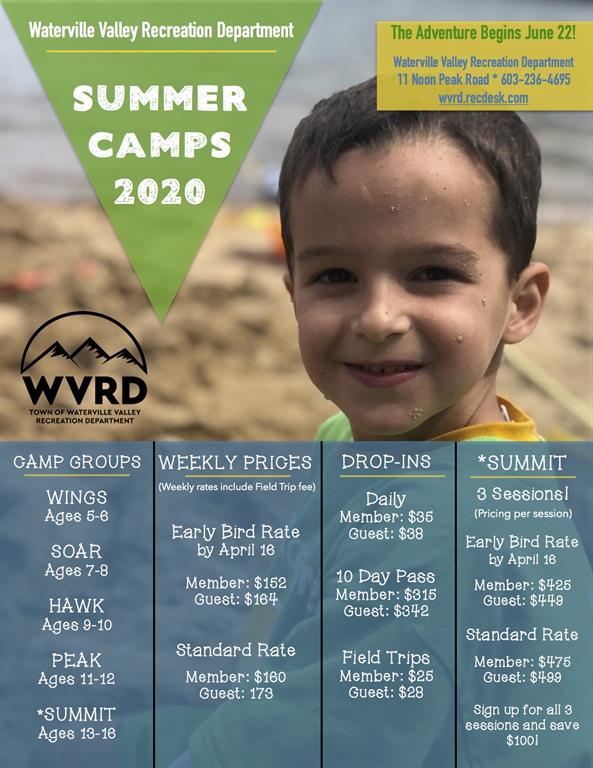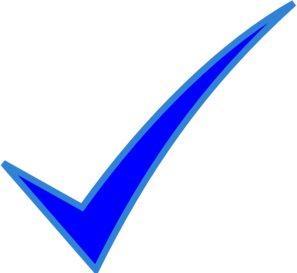 W.I.N.G.S:
Ages 5-6 "Waterville Instruction in Nature and Games" A typical day includes a variety of organized games, crafts, cooking, outdoor exploration and play. This program offers a variety of activities ideal for active youngsters ~ A story time rest offered after lunch!
*Click here to register today!*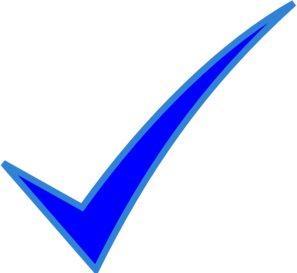 S.O.A.R:
Ages 7-8 "Summer Outdoor Adventures in Recreation". The SOAR program includes a variety of outdoor excursions such as swimming, hiking, canoeing, boating, active games, crafts, indoor climbing wall, and more. A vast amount of time is spent outdoors; ideal for kids that enjoy exploring and playing!
*Click here to register today!*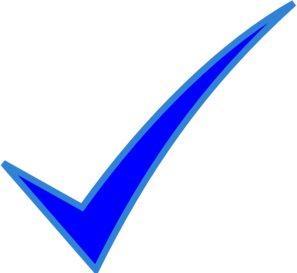 H.A.W.K: Ages 9-10 "Heightened Adventures With Kids" is a brand new camp group with tons to offer! HAWK will get accustomed to adventuring in and around the valley on foot, in boats, on bikes, etc... They will participate in indoor rock climbing, group games/activities, tennis, cooking lessons, crafts, and much more! Be ready to be active and have fun!!!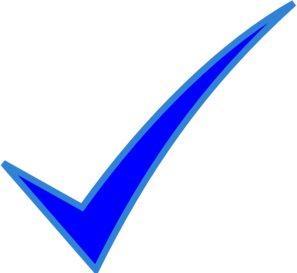 P.E.A.K:
Ages 11-12 "Positive Environmental Activities for Kids" is a perfect program for ages 11-12. PEAK actively explores a variety of natural environments throughout the valley and surrounding areas. Hiking, biking, discovering new swimming holes, indoor climbing, tennis and kayaking are examples of a day-in-the-life as a PEAK'er.
*Click here to register today!*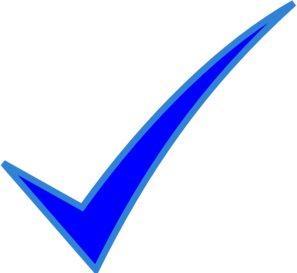 S.U.M.M.I.T: Ages 13-16 "Summer Upon the Mountains Moving Independent Teens" is for ages 13-16. Session 1 (6/29-7/10) and/or Session 2 (7/13-7/24) and/or Session 3 (7/27-8/7). SUMMIT Camp is not a drop-in program. (includes all field trip fees and overnight fees)
*NO cell phones or electronic devices of any kind will be permitted at WVRD camps or field trips

Options for Signing Up
Registration opens 3/13/2020
It's time to enroll your kids into our great summer camps! We provide action packed, fun camps for kids of all ages right here in Waterville Valley, all summer long. Being part of the WVRD camps will create memories that last a lifetime!
Sign up for the Full Week & Save! The field trip fee is included in the weekly price of camp.
Early Bird Discounts!!
Sign up for the weekly rate
before April 16
and get the best deal on camps. You'll also get a 15% discount if you register and pay for 6 or more weeks of camp (Please call WVRD directly to take advantage of this discount at 603-236-4695). Signing up for a full week of camp includes the field trip fee.
Our famous Drop-in style still available!
If you are interested in dropping in for a day or purchasing our 10-day drop in pass, please stop in at the Recreation Department or give us a call. The drop in style does not include the field trip fee on Wednesdays. Once you have purchased your 10-day pass, please sign up for your specific days with the WVRD staff. *Please note: Use of same day Drop-in passes does not guarantee space availability. Drop in passes are only valid for the summer in which they are purchased. Unused days will not be refunded or credited.
*NO cell phones or electronic devices of any kind will be permitted at WVRD camps or field trips
Summer Camp Pricing
Weekly rates available as well as drop-in daily rates. As a Native ID member, if you sign up for 6 or more weeks, you'll get a 15% discount. Please call WVRD to register for 6 or more weeks of camp. (603) 236 4695.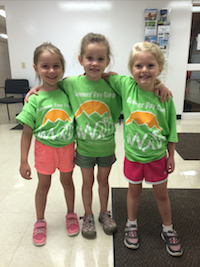 Daily Times

Weekdays from 9 am - 4 pm

Daily Registration from 9:00am - 9:30am (FIRM)

Weekly rate includes the Wednesday field trip fee!

Rec Dept. Native ID


Weekly

$160 per child

Weekly

(by May 15)

$152 per child

Guests

Weekly

$173 per child

Weekly

(by May 15)

$164 per child

Daily drop-in rates & flexible, daily punch pass still available! (Does not include Wednesday field trip fee)

1 Day Drop-in

$35 Rec Dept. Native ID


$38 Guests

10 Day Drop-in Pass

$315 Rec Dept. Native ID


$342 Guests

Sweet deal! Punch Passes may be combined for siblings

Before Care option 8am-9am $5/day with reservation only.
WEDNESDAY FIELD TRIPS!
Wednesday Field trips for WINGS, SOAR, HAWK, & PEAK
Field trip fees are included for Weekly Campers and are an additional fee for Daily Drop-in Campers. Field trips include transportation and admission fees.
Campers should bring lunch, a water bottle, two healthy snacks, appropriate clothing, footwear & sunscreen. WV Camp shirts required for each trip (1 free camp shirt is provided at the beginning of each summer). Campers must attend a regular day of camp before attending a field trip with us.